Do you know which categories are your best performers in the Convenience sector? Do you know which stores sell most of your product or which stores have the highest opportunity to sell more? How about the regions where your brand is sold most, or what your average basket spend is? Or how to have better informed conversations in Grocery to gain more incremental space?
There's only one way for your brand to get these answers – through data; and this month we shared our secret weapons for both the Grocery and Convenience sectors that are guaranteed to transform the way you are currently executing your strategy.
If your brand isn't currently maximising every opportunity with data then you're simply going to be left behind whilst your competitors reap the benefits!
If you haven't been following our campaign – don't worry! Read on to discover how the power of data can help your brand make smarter decisions, maximise opportunities and ultimately increase your sales. Unlock two revolutionary solutions from Thumbprint and start using EPOS data to your advantage…
Unlock Pinpoint data and conquer your category in Convenience
Convenience continues to be a booming channel in the vast retail landscape after an initial boost during the pandemic. The sector has grown by 4.1% during 2022 and UK convenience stores generated revenues of over £47 billion that year with an estimated 48,590 convenience stores across the UK today. In the past, data in the Convenience sector was non-existent, however today there's finally a way for brands to get their hands on it – and its game changing!
Pinpoint has the most up to date data and can quickly identify which categories are showing growth and where the current opportunities lie. It's drillable right down to not only postcode area or store name, but transaction level. In fact, we know for a fact that Pinpoint is the only place you can see what else is in the basket at check out and we can help you understand how much your products are contributing to total basket spend in Convenience - for all baskets, including ones containing competitor products!
There's a lot of noise in the industry just now about the importance of data and where is the best place to get it. But aside from a few high level trends, we're not really seeing anyone actually show you actual insight. We will.

So, when you can't see the insight for the noise here's our advice… stick with the people who can demonstrate what they can do for you using live examples. For example, in a recent sample Pinpoint data highlights the top categories performing in Convenience over a 4 week period: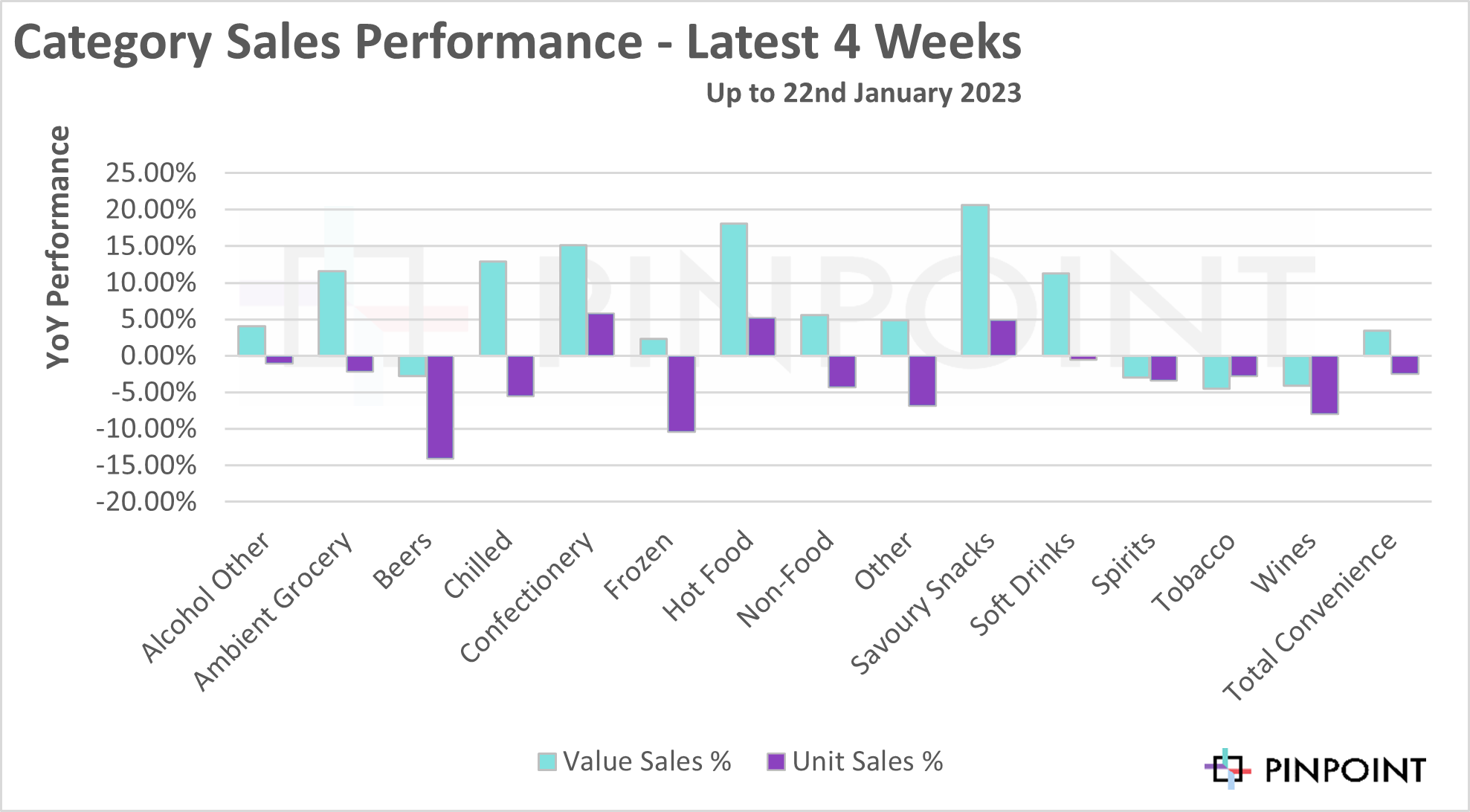 …and there's more where that came from!
2. Unlock DART data and increase your sales in Grocery
We all know that the Grocery sector is a key player in the retail landscape and it's no secret that this market is constantly changing due to shifts in consumer behaviour and the impact from external factors. This means brands need to be smart about every decision and every action taken. Supply chain issues and stock availability are common challenges for brands but managing your EPOS data correctly is a quick and effective solution to address these head on.
Thumbprint's DART data & analytics tool uses daily retailer EPOS data and turns it into simple direction that tells you where, when, and what actions to take to generate the biggest sales growth by improving your shelf execution.
Without it, there's no way to quickly identify gaps on the shelf, address availability issues or ensure your products are in prime position for consumers at this pace.
The valuable insight provided by this tool will help you streamline your strategy for maximum success in Grocery. As an example, DART data recently told us that Saturday isn't currently the best selling day – Friday is, meaning some brands are missing the mark with their weekend execution. Likewise, the day for the poorest availability is a Monday. Interestingly, DART highlights that LSV is highest on a Saturday, so Saturday has the potential to be the highest selling day - if issues are corrected! And DART can help brands do that.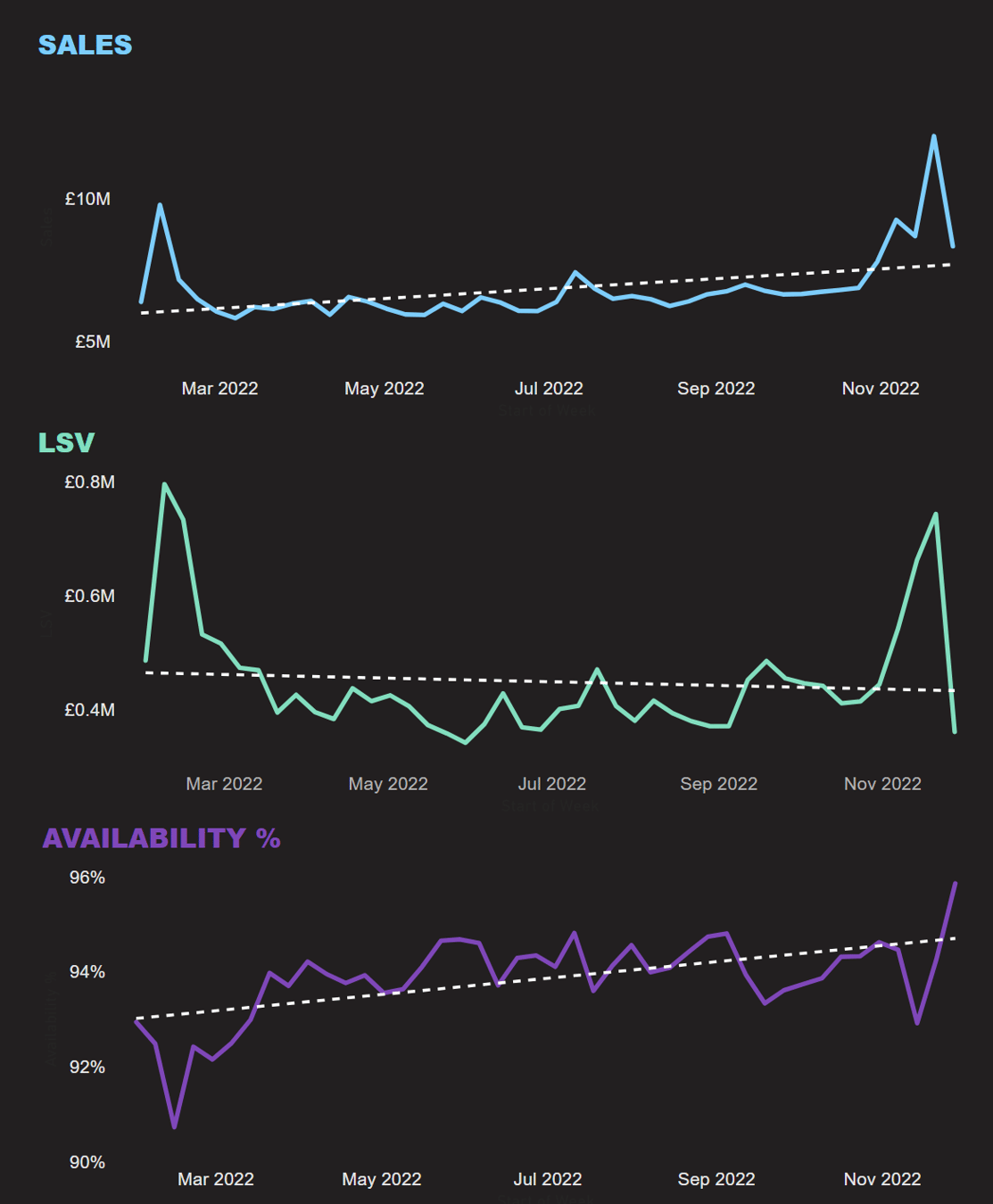 Harness the power of EPOS data and never miss a selling opportunity again
It's clear data is key for brands in order to win in big sectors. It will continue to play a vital role in FMCG as the market continues to change. Today, it's easier than it's ever been for brands to not only access EPOS analytics, but to use tools that simplify and elevate the output. These tools like DART and Pinpoint turn raw data into action to give you purpose and direction to help you really use it to your advantage every day!
Stay tuned for a big announcement as we launch a new DART feature with a solution to one of the biggest challenges faced in the Grocery sector. Coming soon from Thumbprint…
Talk to us to get your hands on ground-breaking data from Thumbprint: