Does your brand know the best day for sales? Are your products fully stocked in the right places at the right times, ready to kick-start the weekend?
Despite popular belief, Saturday isn't currently the best sales day in Grocery. In fact, data from our DART analytics tool reports that Friday is. Are some brands missing the mark with this and focusing their execution efforts on the wrong days?
Likewise, the day for the poorest availability is a Monday. Interestingly, DART highlights that LSV is highest on a Saturday, so Saturday has the potential to be the highest selling day - if issues are corrected! How do brands do that? The only way is by harnessing the power of EPOS analytics. Without data, there's no way to quickly identify gaps on the shelf, address availability and ensure your products are in prime position for consumers.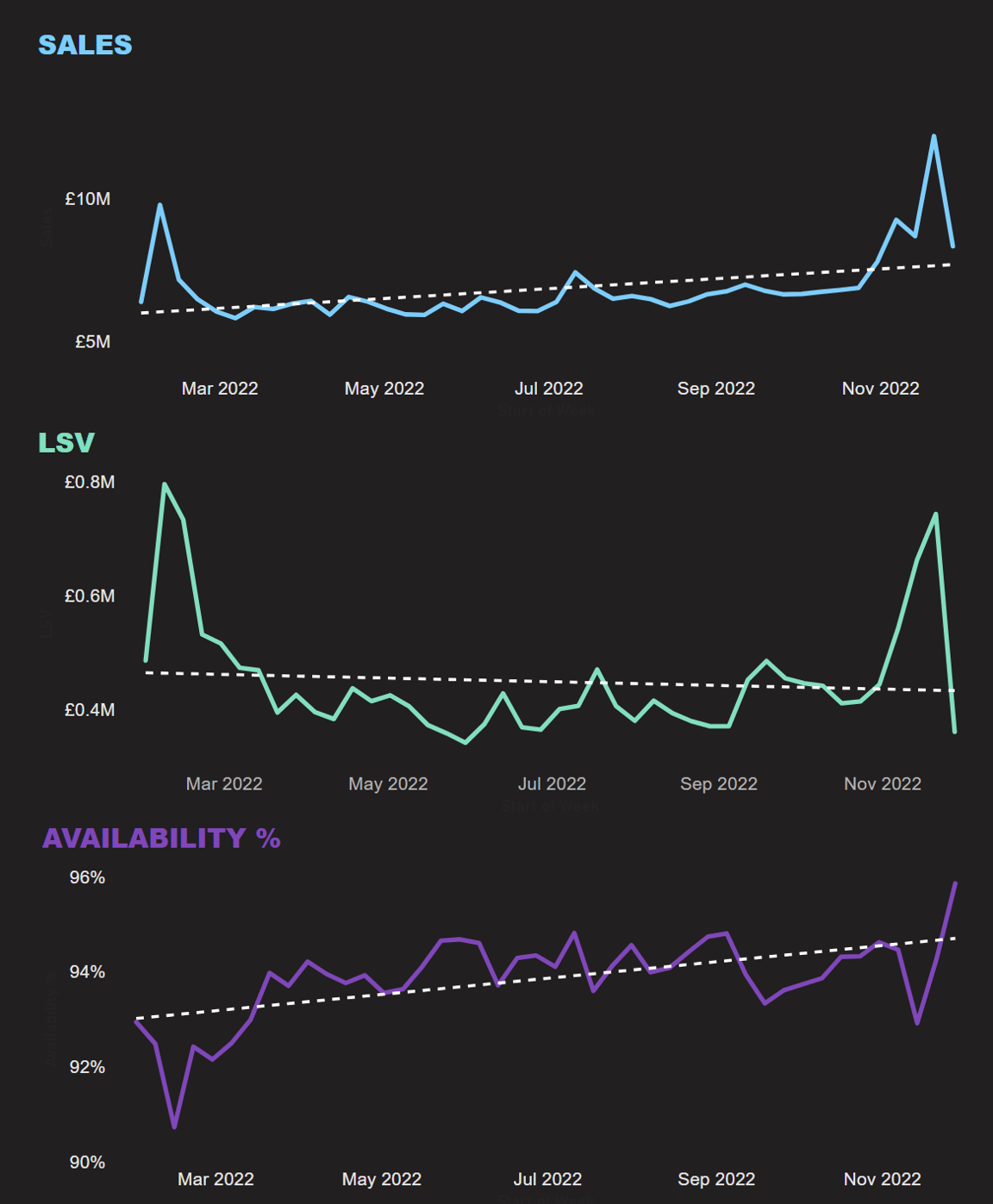 Use EPOS data to increase your sales
With the ever-changing nature of the Grocery sector, one thing brands want to be certain about is their product sales. External cost pressures, availability issues and shifting consumer trends means they need to constantly adapt to make the right decisions at the right time. Today, the use of data is crucial direct action to ensure sales success, as it helps inform brands of where their problem and opportunity areas are in the moment and allows them to make smarter decisions on an ongoing basis.
Thumbprint's DART EPOS analytics tool leverages daily retailer EPOS data and turns it into simple direction that tells people where, when, and what actions to take to generate the biggest sales growth by improving your shelf execution. The beauty of DART is that anyone in your organisation can use it to unlock value in their role, whether they're field or head office based.
It can help you identify opportunities all the way down to a specific product, on a specific shelf, in a specific store. The data is always up to date from previous day – in fact, it's the most up to date EPOS analytics product in the market. Simply put, DART ensures you are taking action where it's actually needed – and most needed – to make an instant impact to sales and ROI.
As shown in the video below, the data shows that execution constantly varies so without this data it's really easy for brands to waste time and money sending resource to the wrong stores at the wrong time. DART can be easily implemented to use with your existing field team in stores, or our field marketing agencies can also provide a variety of resources to suit your brand's needs. Choose from seasonal or permanent teams, with agile and fixed-term options available in Grocery to fit your specific campaigns or objectives.
The future of EPOS data and the constant evolution of DART
Looking ahead, as the Grocery sector evolves, DART does too. As part of the product roadmap, we are delivering more directional, predictive, and preventative analytics to level up on-shelf availability and sales growth - whilst also looking for ways to further improve the user experience of the product. You'll see constant improvements in the tool as we make it smarter through regular development and the addition of new features.
This March, we've got an exciting new feature rolling out in DART through predictive supply chain alerting. It will monitor and alert on stock based issues before they progress to become an availability issue. Alerts will be available through the DART field application to the Territory Managers, and via the DART Head Office application to allow for macro view of issues. Keep an eye out for full details about this coming soon…
In an increasingly competitive landscape, the use of data led analytics is becoming more important than ever and brands need to use it to drive their strategy, now and in future.
Get in touch to discuss how DART EPOS data analytics can make an impact in stores for your brand: