Do you know which categories are the best performers in the Convenience sector? Do you know which stores sell most of your product or which stores have the highest opportunity to sell more? How about the regions where your brand is sold most, or what your average basket spend is? There's only one way for your brand to get these answers – by accessing the largest set of EPOS data for the Convenience sector through Pinpoint.
Without data there's no way to identify your gaps in the sector, so be amongst the first to access this and take advantage of your key selling opportunities. Why shoot in the dark when you can make every decision with precision?
Pinpoint is the EPOS analytics tool from our digital and data agency, Thumbprint. Available to direct strategy from head office, it highlights key data to help brands successfully navigate key channels within the Convenience sector. Over the next few weeks, we'll be sharing an insight direct from our Pinpoint product, including detailed info on the categories and locations that are performing well, and the opportunities for brands to win. First, here's a preview of how Pinpoint can help…
Get your hands on the most up to date EPOS data and discover the trends driving Convenience
It's no secret that the market is constantly changing due to new trends and impact from external factors. Pinpoint has the most up to date data and can quickly identify which categories are showing growth and where the current opportunities lie.
For example, our data highlights the top categories performing in Convenience over the last 4 weeks :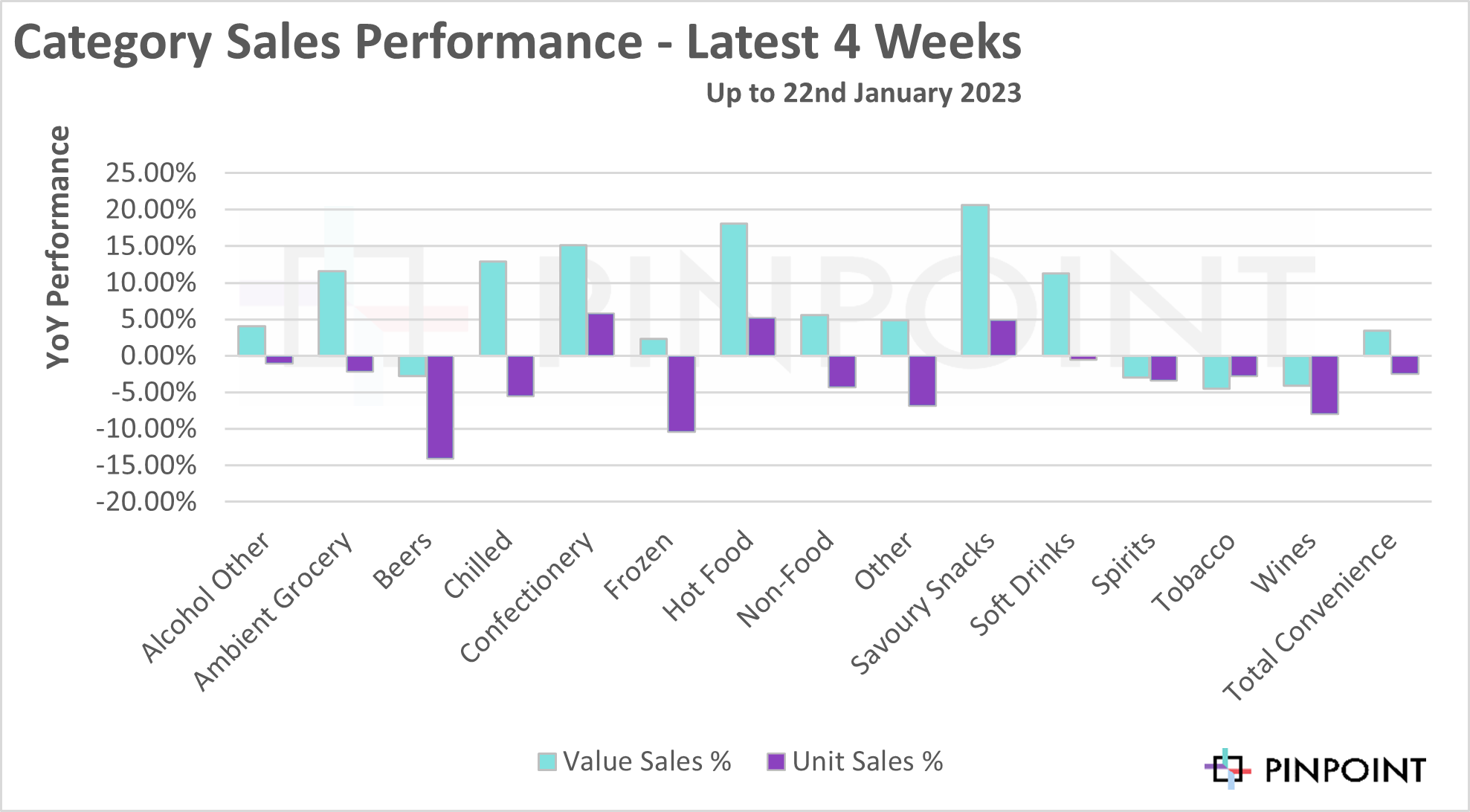 Pinpoint shows that confectionery, hot food and savoury snacks categories are driving unit sales growth in the channel over the 4 week period.
Confectionery (+5.8%)
Hot Food (+5.2%)
Savoury Snacks (+4.9%)
This data is drillable by time period, brand, region, post code, named store and by SKU.
How brands can use Pinpoint data to conquer the Convenience sector
Convenience continues to be a booming channel in the vast retail landscape after an initial boost during the pandemic. The sector has grown by 4.1% during 2022 and UK convenience stores generated revenues of over £47 billion that year with an estimated 48,590 convenience stores across the UK today.
In the past, data in the Convenience sector was non-existent, however today and there's finally a way for brands to get their hands on it – and its game changing! With Pinpoint, Thumbprint, brands get exclusive access to the largest and most granular EPOS data available in symbol and independent retail, targeting 11,000 stores. This is the largest, most granular set of data which can be drilled into by store type, postcode area, store name and at transaction level. Brands can choose how they use Pinpoint data, with three different options available – curated insight, modular and a SaaS reporting suite.
This data can be used at head office to create a strategy that's tailored to any objective. Brands should consider which data is most important to them and customise this to suit their goals. This allows your team to make strategic decisions from the get-go. The granular transaction level EPOS data, that's only available on the market through Pinpoint, gives brand a unique opportunity to accurately target and set strategy that focuses on the right products, the right layout, the right geographies and the right fascias in Convenience. By using data to identify these key areas early on, brands will never miss an opportunity again!
Talk to us about our data
It's clear data is key for brands in order to win in big sectors. It will continue to play a vital role in FMCG as the market continues to change. Today, it's easier than it's ever been for brands to not only access EPOS analytics, but to use tools that simplify and elevate the output. These tools like Pinpoint turn raw data into action to give you purpose and direction to help you really use it to your advantage every day!
Follow us on LinkedIn throughout this month as we give an insight into how our data can transform your strategy.
Talk to us about how your brand can harness the power of EPOS data: